Fauree has joined hands with Service Group Pakistan to empower and uplift the Small and Medium Enterprises SME sector in Pakistan!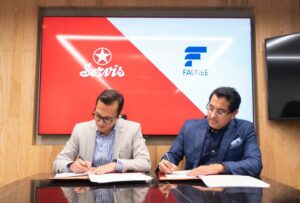 Fauree has signed a Memorandum of Understanding (MOU) to strengthen the foundation of the SME landscape, promoting innovation, growth, and sustainable development. This collaboration marks a significant milestone in our commitment to fostering economic prosperity and creating new opportunities for entrepreneurs and businesses across Pakistan.
With Fauree's expertise in supply chain finance and Service Group Pakistan's unwavering dedication to promoting local entrepreneurship, we are confident that this partnership will lead to transformative outcomes for the SME sector.
Together, we aim to provide comprehensive support, access to resources, and customized solutions tailored to the unique needs of SMEs. Our shared vision is to drive inclusive economic growth, spur job creation, and contribute to the overall progress of Pakistan's economy.
We're looking forward to embarking on this incredible journey with Service Group Pakistan, and we can't wait to witness the positive impact our collective efforts will have on the dynamic SME ecosystem of Pakistan.
For more information, please visit: LinkedIn