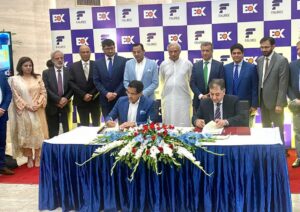 Introduction
In a significant stride towards bolstering small and medium enterprise (SME) financing and economic development in Pakistan, the Bank of Khyber (BOK) has partnered with Fauree Tech Private Ltd. This collaboration, formalized through a Memorandum of Understanding (MOU), aims to leverage Fauree's expertise and BOK's strong position in banking industry to empower SMEs and foster economic advancement. This partnership marks a remarkable milestone in the shared commitment to foster innovation, financial inclusivity, and sustainable growth.
Fauree: Empowering SMEs through Cutting-Edge Solutions
Fauree has earned acclaim for providing cutting-edge solutions across diverse industries. Leveraging its extensive reach and technological expertise, Fauree is uniquely positioned to contribute to the growth and development of SMEs in Pakistan. By partnering with BOK, Fauree aims to drive digital transformation, enhance access to financing, and facilitate the expansion of SMEs in the country.
Bank of Khyber's Vision for Innovation and Business-Centric Approach
Mohammad Ali Gulfaraz, the Chief Executive Officer of BOK, expressed his delight at the collaboration and emphasized the bank's commitment to becoming the most innovative and business-centric financial institutions in Pakistan. BOK's forward looking approach aligns with its vision to provide exceptional value-added services and financial solutions to its customers. By joining forces with Fauree, BOK aims to create an ecosystem that fosters entrepreneurship and support the growth aspirations of SMEs.
Driving Digital Transformation: A Key Pillar of Saudi Arabia's Vision 2030:
Dr.Saleh Alamr, Group CEO of Jawa Investment and CO-Founder/Board Member of Fauree, highlighted the significance of digital transformation as a key pillar of Saudi Arabia's Vision 2030. This collaboration between BOK and Fauree signifies a deeper relationship with Pakistan and a commitment to contributing to the nation's progress. The partnership will harness technology to streamline financial services, bridge gaps in SME financing, and unlock new growth opportunities.
Unlock the Potential of SMEs
The collaboration between BOK and Fauree holds great promise for SMEs in Pakistan. BOK's expertise in banking coupled with Fauree's technology-driven solutions will enable SMEs to access vital working capital, strengthen supply chains, mitigate risks, and drive sustainable economic growth. By empowering SMEs to thrive, this partnership will play a pivotal role in cultivating a resilient and inclusive economy.
Conclusion
The collaboration between Bank of Khyber and Fauree Tech Private (Ltd) represents a significant step towards accelerating SME financing and economic development in Pakistan. By combining banking excellence with cutting-edge technology, BOK and Fauree aim to unlock the potential of SMEs, promote financial inclusivity, and drive sustainable growth. This partnership not only aligns with BOK's vision to become an innovative and business centric bank but also supports Fauree's commitment to facilitating digital transformation and contributing to Pakistan's progress. Together, they are poised to empower SMEs and foster a thriving ecosystem that paves a way for a prosperous future.
For more information, Please visit: Business Recorder, Dawn